Photos

The Highland House Hotel was built in 1884, offered 50 rooms, and good food. It was a stop along the Neversink Mountain Railroad, and for one year featured a roller coaster. The hotel was destroyed by fire, not accidentally, in 1930.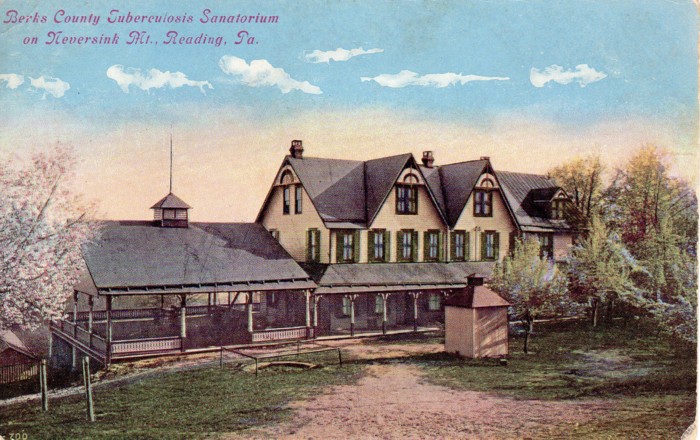 The Centennial Springs Hotel was built in the late 1880's, and became the Tuberculosis Sanatorium of Berks County in 1910. It was dismantled in the mid 1930's, and now only ruins remain, although the wine cellar is mostly intact.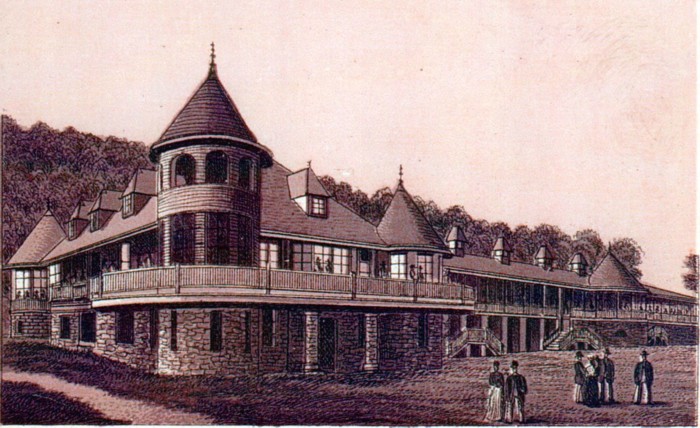 The Klapperthal Pavilion was built in 1892 as an entertainment complex, 350 feet long, with the largest dancefloor in Pennsylvania, and restaurant seating for 2,000. It was sold in 1903, and dismanted, the materials being used to build houses along Neversink Road.

A "trolley" heading east along the south (river) side of Neversink around 1900. All photography was black and white in those days, and postcards were hand-colored. So the color of the trolley depended on the mood of the artist that day.
The new edition of the book contains more than 100 illustrations and photos, along with lots of stories about Neversink from 1900 and before.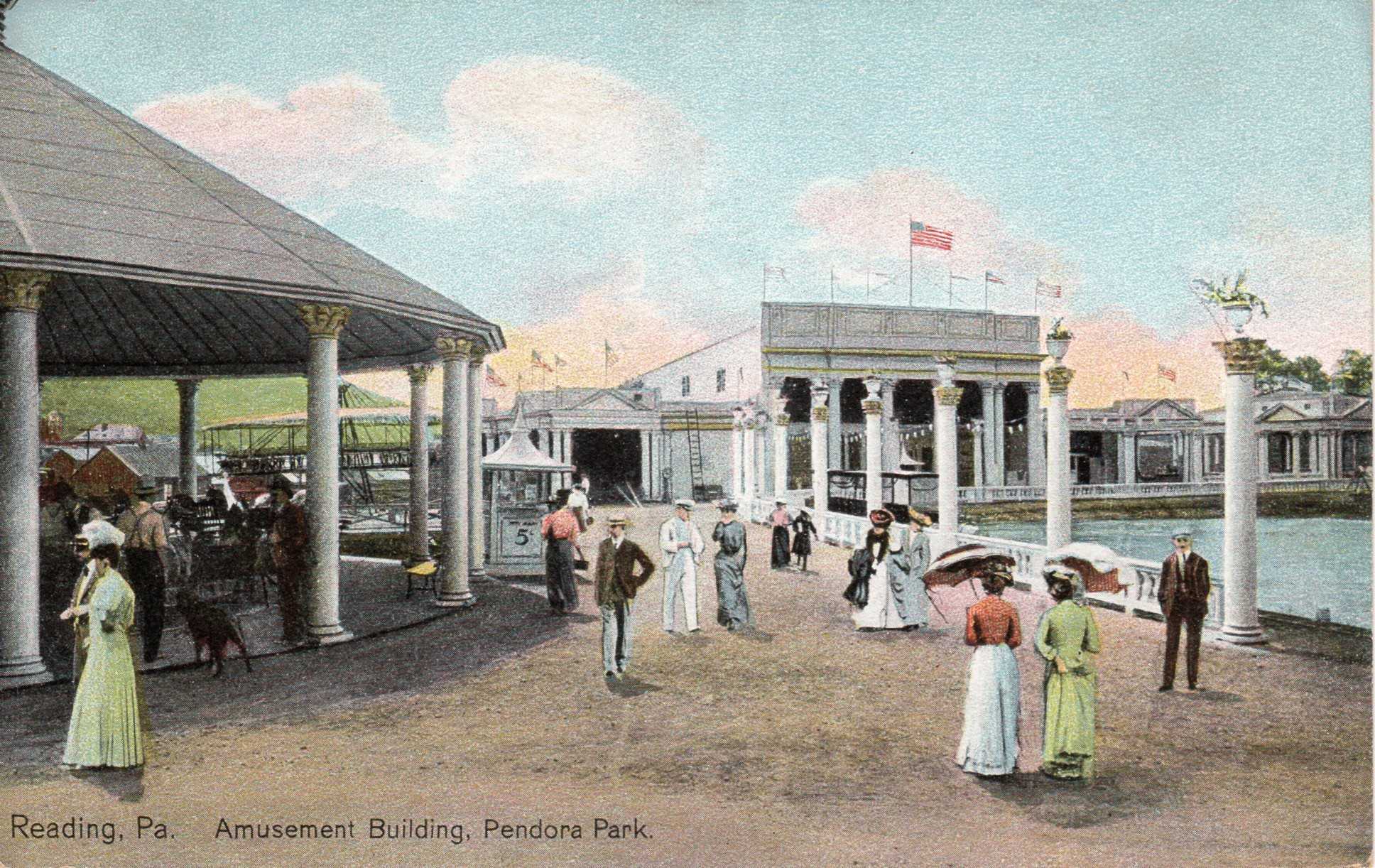 This 1907 view at Pendora Park, taken about a month or two after the opening, shows the Amusement Building, which contained the roller skating rink, the cinema and other novel attractions.On the left is the Carousel building, without carousel. Just behind the carousel building is the Circle Swing ride, which was added around August. Most of the human figures in the scene are fictitious, although the dog at the carousel building was real.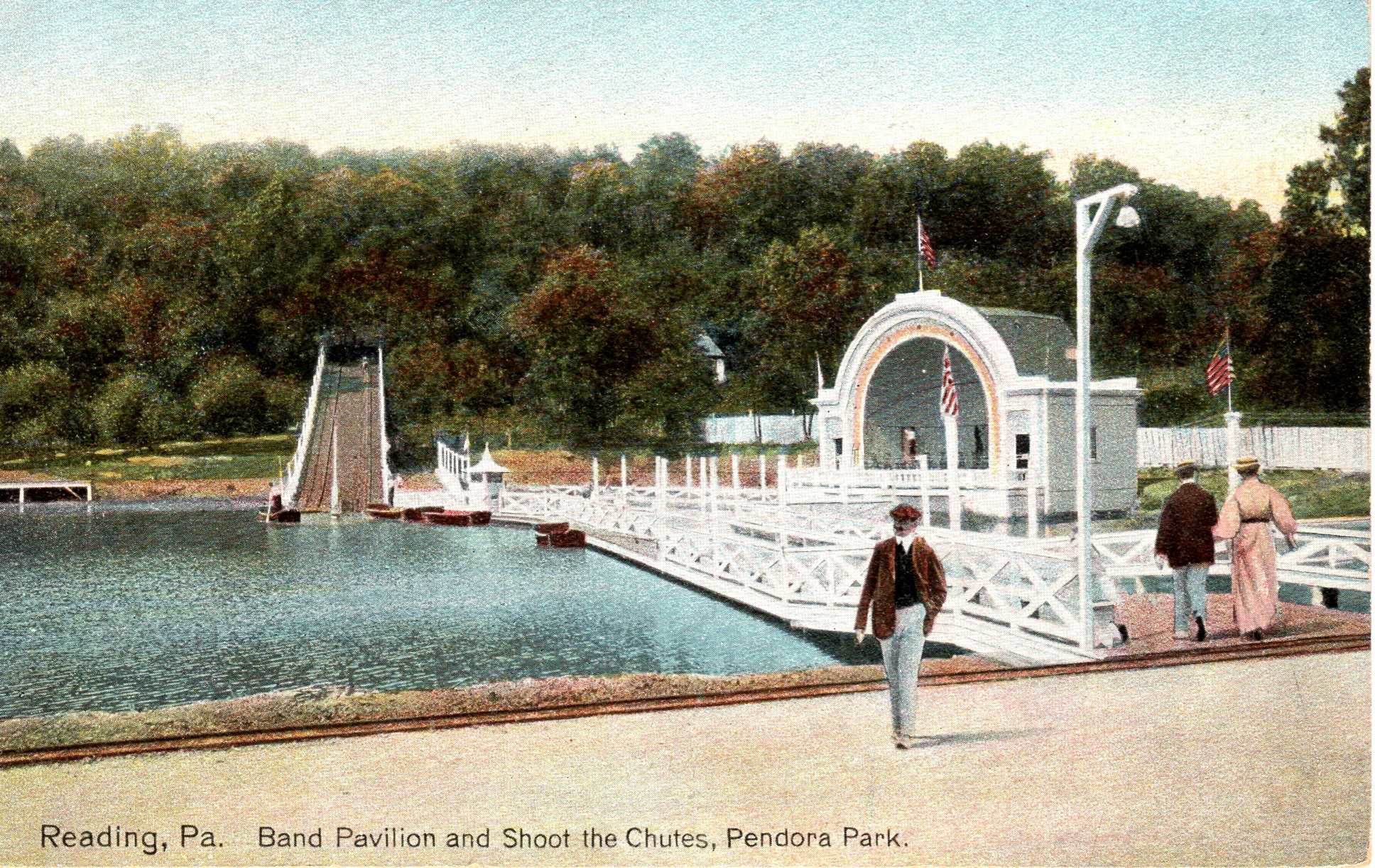 The Band Pavilion on the right was a popular attractions, where bands such as "The Ringgold Band" would perform. To the left of the Bandshell is the Shoot the Chutes ride, a kind of early day Log Flume.



The Shoot the Chutes ride took passengers up the ramp in a "boat", and they were let loose to careen down the ramp into the lake below. Carsonia Park followed with a Shoot the Chutes of their own the following year.



This shows part of the lower playground at Pendora, present day. The amusement park would have been directly behind this scene, and uphill.


Back to Main